Who I am & What I do …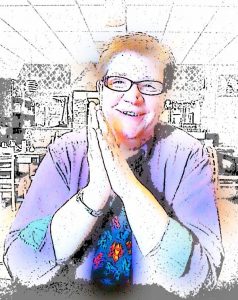 For 30 years I was in the trenches working with organizations on management issues, expansion and organizational restructures, board development, policy development, grant writing, fundraising, and the list goes on. For 30 years I consulted, coached, trained, spoke, wrote, and helped nonprofits build capacity. Now I'm sharing all of that experience with you, here, on this website. I share that experience in context of our relationship with each other and the world around us.

A Little History …
GReat Kreations was founded in 1995 to meet the growing demand for services by nonprofit organizations. Our small team of professionals worked with clients in the greater New York area and throughout the East Coast to develop organizational capacity through information technology and information management, strategic planning, board training, and systems development.
In 2005 I moved out of the hands-on technical arena to focus on organizational sustainability and development. The company was restructured to better assist clients identify, establish, and maintain soft systems that grow capacity and strengthen their ability to meet their objectives. Beginning 2008 I developed  systems to support virtual staff and workspaces allowing greater flexibility to meet the needs of my clients without increasing the burden of costs during an economically turbulent time. In 2010 I began focusing on remote collaboration, dispersed teams, and virtual projects. 
And Now …
The COVID-19 pandemic dramatically changed the way we connect, socialize, and work together. Remote collaboration and employee support systems are more important than ever. Utilizing a variety of online tools, including the virtual world of Second Life, I am able to effectively collaborate with colleagues and clients around the world on regenerative business ideas & design along with best practices in nonprofit leadership.
I enjoy weaving together all the threads of my life, interests, experience, and passions into a tapestry of stories and tools to share with you. I hope you learn from, grow with, and enjoy all that is available here. I am excited to help you strengthen your organization using the tools and resources you find on this website.
To get in touch please use the contact form. I'd love to hear from you.