Your donors fuel your organization's work, so it's crucial to maintain a healthy, thriving base of supporters. A major part of connecting with these individuals and optimizing the giving experience is utilizing the data you collect about their giving trends to inform your future fundraising decisions. 
Luckily, ongoing advancements in fundraising software mean the vast majority of your engagement touchpoints are online, allowing you to seamlessly collect the donor data you need. In this post, we'll talk about why this is incredibly useful for board members who want to hone in on donor engagement. 
But what role does your board play in donor management, exactly?
Great question! At most organizations, board members play a direct role in fundraising—whether that's sending donation appeals, participating in events, meeting face-to-face with major donors, or expressing gratitude after a donation is made. With their direct involvement, they must understand what donor management tactics are working, which are falling short, and what the overall financial situation of your organization is. A big part of this is understanding and leveraging data to inform any changes they make to the donor experience.
As a fundraising coordinator who prepares these reports, you work with this data every day. However, most board members aren't familiar with various fundraising metrics and won't be able to draw effective conclusions when they're presented with data without an explanation of what the data shows. 
Between balancing their personal and professional lives and strategizing how to put your organization on the best path forward, your board is incredibly busy. The last thing you want to do is waste their time and bog their donor reports down with unnecessary metrics. 
In this post, we'll explore these topics to help you prepare your reports so board members can easily understand them:
There's a reason each of your board members is in a leadership position at your organization. Giving them the resources and data they need to effectively analyze your fundraising performance will empower them to help your organization to the fullest extent.

Information to include in your donor report
In many cases, you'll only have a short amount of time to present your donor data report, so it's critical to spend time discussing the most important key performance indicators. This means giving the board an overview of your fundraising performance. Doing so can be as simple as sharing a chart with these metrics from the past year: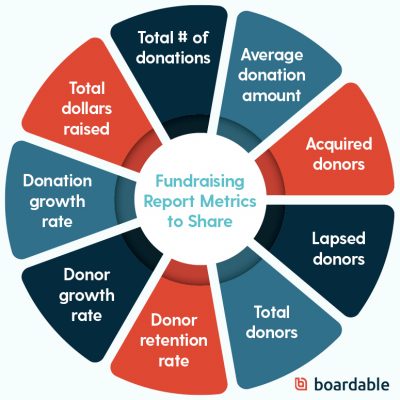 Total dollars raised:

overall dollars acquired through fundraising initiatives

Total number of donations:

the number of donations that were made

Average donation amount:

the average gift size received from a donor (Sum of donations $ ÷ Total # of Donations = Average Donation Amount)

Acquired donors:

the number of first-time donors who made a gift to your organization

Total donors:

the number of individuals who donated to your organization

Donor retention rate:

the percentage of donors who gave to your organization last year

and

this year (Returning Donors in Year #2 ÷ All Donors in Year #1)

Donor growth rate:

the percentage increase in the total number of donors compared to the previous year

Donation growth rate:

the increase in donation revenue compared to the previous year

Lapsed donors:

the percentage of donors who gave to your organization last year but not this year
The report should include enough information to convey successes (and any shortcomings) you've had throughout the past year. To indicate growth, include last year's numbers and the percent change in your presentation. This will provide a frame of reference for this year's performance in comparison to the previous year, allowing your board to pinpoint key areas they should focus on going forward.
Double the Donation's nonprofit CRM guide explains that a robust database will make it incredibly easy to track progress within your database. This will help you measure improvement year-over-year and hold your team accountable for meeting various goals. Then, you can just as easily organize this information in a customized report when the time comes to analyze and share it.
Additional information to share
Go a step further with your donor report by providing a breakdown of where funding has come from. For instance, list out the different fundraising initiatives you've conducted and note the total dollars raised from each of those. You could include categories such as events, social fundraisers, and bequests. This breakdown will help board members grasp where you're experiencing growth and what efforts you can divert attention away from.
Include a final section that focuses on donor relations. What organizational projects, marketing efforts, and fundraising initiatives have helped deepen donor relationships over the past year? Talk about where your board and staff members have excelled in their efforts, such as if they have proactively reached out with donor thank you letters or spent time meeting with major donors one on one. That way, they'll understand what practices to continue and which to taper off.

Donor data to exclude from your report
While putting enough information in your fundraising report is crucial, it's just as important to understand what not to include in your presentation. Remember, you likely won't have a ton of time to present this information, which means it doesn't make sense to include every minute detail. 
Three pieces of information to steer clear of include:
Advanced metrics.

Board members will likely lose interest if the metrics and concepts you discuss aren't crystal clear. Exclude advanced data like donor lifetime value, donor acquisition cost, and trends in recaptured donors. Not only could including this information confuse and bore board members, but it could also quickly become a timesuck if board members ask for an explanation about how the metrics are collected or calculated.

Predictive analytics.

It can be tempting to dedicate a couple of slides to discuss your wealth screening and other predictive modeling results. While board members may find inferences about future donor behavior interesting, predictive tools aren't 100% factual. You don't want to mislead them or get their hopes up, especially if they fixate on these numbers and think of them as guaranteed outcomes.

All fundraising successes.

Spending the entire time running down a list of your organization's wins might feel good, but it doesn't necessarily provide the most valuable information. Rather, stick to a few major takeaways or trends so you have time to focus on what's most important.
As Boardable's guide to board engagement explains, your organization's mission and programs may be their primary interest, but having an understanding of the health of your organization's fundraising is critical to their success. After all, you can't pursue your mission or run programs without fundraising. Overloading board members with irrelevant data can quickly overwhelm and disinterest them, so boil it down to the most important information.

How to present your donor data to the board
In order to effectively prepare for your presentation, anticipate some of the questions your board members might ask. Expect these three general questions from your board members:
What does this data mean?

Everyone must understand what your data means and how it plays into the organization's

strategic planning

. If you're unsure about the data you're sharing and whether it's accurate, you should instead focus on cleaning up the organization's database before presenting data you don't understand.

How do our metrics compare to other organizations in our space or area?

Consider any publicly available information regarding similarly-sized organizations and those that pursue similar causes. Some online resources gather universal data regarding all nonprofit fundraising that you can use to compare your organization's metrics to, like on a

Fundraising Report Card

.

What are we going to do next based on this information?

Give some forethought into potential next steps your organization can take to improve your key fundraising metrics. Have high-level ideas ready like setting up a new email welcome series to boost first-time donor acquisition rates or increasing follow-up efforts to ensure monthly donors follow through with their payments. Having some ideas prepared can get the ball rolling and kick off a brainstorming session.
When you've taken the time to put together a well-organized report, your board members will naturally be interested in the information. They want to see your organization succeed and are willing to put in the time to make that a reality. The easier you make it for them to grasp what is needed from them, the more engaged they'll be in your organization's fundraising efforts.
Wrapping up
You need to prepare your donor data reports for an audience that knows their stuff, even if they're not fundraising professionals. Board members who have less experience with data won't have the same level of expectations for your reporting, but they will appreciate the important, unbiased data you can share to help guide their decisions.
The post How to Prepare Donor Data Reports for Your Board Members appeared first on Bloomerang.
This article originally appeared in Bloomerang. See the original article here.