Online fundraising has been on an upward trajectory for years. But because of pandemic-related restrictions on in-person interactions, online fundraising increased by 32% in 2020. After a year of significant growth, online fundraising grew by a more modest 3% in 2021, and the number of gifts increased by 5%.
It's clear that having a comprehensive online fundraising strategy is crucial for modern nonprofits. When your nonprofit uses online fundraising platforms and follows best practices, you can meet your supporters where they are—online—and enable them to give quickly and easily.
In this guide, we'll cover the ins and outs of online fundraising, explaining how you can leverage various platforms and fundraising ideas to engage your supporters virtually. Here's what to expect:
Use the tips and ideas in this guide to create your own online fundraising plan and to determine the fundraising tools you'll need to accomplish your ultimate goals. But first, let's review a few online fundraising basics.
What is online fundraising?
Online fundraising is the process of raising funds from supporters via the internet, usually using an online donation page. It's a quick and easy way for individuals to support missions they care about.
The benefits of online fundraising
Online fundraising offers benefits for both your organization and your supporters. Your nonprofit can expand its reach and encourage additional contributions, and your supporters can more easily donate to your cause. Here are additional benefits of online fundraising for your donors and your nonprofit:
Benefits for donors
Donors want to be able to give the second they're inspired, so asking them to physically bring their donation to you or to send the donation via mail will likely mean you miss opportunities to secure much-needed revenue.
Offering online fundraising opportunities makes the process of donating easy for your supporters.
Online fundraising allows your supporters to:
Give at any time. Supporters can hop on their computer or phone and give immediately at any time of the day.
Give from anywhere. The majority of giving forms are now optimized for mobile, allowing supporters to give via their mobile devices. This means they don't need to be in front of a computer to donate.
Set up recurring donations. Your nonprofit can provide an option for donors to make a recurring donation and automatically contribute without coming back to your donation page every month or quarter.
Share the gifts they've made. You can include social media share buttons on your online donation form. This allows donors to immediately share that they've supported your mission with friends and family members. This not only allows your supporters to share their involvement, but also spreads your organization's mission further and inspires individuals with no previous connection to your organization to give.
Make secure donations. Organizations that invest in PCI-compliant online fundraising solutions can take proper cybersecurity measures to ensure that their online donation process is secure.
Benefits for nonprofits
Your nonprofit benefits from online fundraising as well. Online fundraising allows you to:
Receive immediate feedback on your marketing efforts. Online fundraising technology allows your nonprofit to better understand which marketing campaigns effectively drive donations and where there's room for improvement.
Capture donor information in your donor database. When donors give online, you can capture their personal information and save it to your donor database. You can then leverage this information to build relationships with these donors and encourage future donations.
Leverage a cost-effective fundraising strategy. The cost of online fundraising software can be fairly inexpensive, only requiring a small platform fee and processing fee. Plus, some solutions give your supporters the option of covering that processing fee, making it even more cost-effective.
Increase brand awareness. People will see that others are supporting your nonprofit online. Even if they don't give right away, they're more likely to remember your nonprofit in the future and potentially donate at another time.
How to start fundraising online
Whether you're just getting started or you're optimizing your existing online fundraising strategy, the following steps will help you get the most out of your online fundraising efforts.
Determine your online fundraising budget
Review your revenue goals for your online fundraising platforms. Then, determine the amount you're willing to spend to hit those goals and lead to a healthy return on investment (ROI). And remember: Every nonprofit budget is different, so be sure to stay within your means when you craft your online fundraising strategy.
For example, let's say you want to raise $100,000 in annual revenue through your online fundraising strategy. You might decide to allocate $10,000 for the necessary software and infrastructure to raise that funding. If that's the case, your goal should be to raise $110,000 to hit that revenue goal while making up for your expenditures.
Choose an online fundraising platform
Choose the software solutions that will facilitate your online fundraising efforts. Follow these steps to help you choose the right solution for your organization.
Determine the types of fundraising software or apps you'll need. Create a list of the features you'll need to host successful campaigns. Categorize these lists by must-have and nice-to-have features.
Explore the available fundraising platform options using Google and software reviews.
Narrow down your list by comparing the features in the software solutions against your must-have features. Then, compare the solutions based on your budget. Once you find the solutions that are in your budget, see which ones also have those nice-to-have features you'd like to use.
Now that you've identified your top picks, go to their websites and ask for demos. You may need several demos before you're ready to buy fundraising software. Before the demos, compile questions you have about using the software solution. Ask about any implementation fees, hidden costs associated with the solutions you're interested in and what type of customer support is available for you.
Purchase the solutions that meet your nonprofit's needs. Then, create an implementation plan and timeline so you're ready to go when it's time to host your next fundraising campaigns and initiatives.
Launch and promote fundraisers
Before you launch your fundraisers, test your donation buttons by donating to the campaign yourself. This way you'll catch any error or glitch and can fix it before asking your supporters to give.
This is also the time to create marketing materials for each segment of your nonprofit audience. You can make adjustments to these materials during the campaign, but having them prepared ahead of time will save you time.
Promote your fundraisers on multiple platforms and in multiple ways, including:
Email. Sending emails allows you to create personalized messages and deliver them directly to your supporters' inboxes.
Website.

Include a button on the homepage or in the main navigation of your site so donors immediately know where to donate. 

Social media. Platforms like Facebook, Instagram, Twitter, and TikTok are great for engaging with younger donors. Keep in mind that you can also leverage social media tools for your fundraising campaigns. For instance, you might ask supporters to conduct Facebook fundraisers on your behalf. Don't forget to thank these supporters for their help!
Direct mail.

Send letters directly to your supporters to inform them about upcoming online campaign opportunities and provide the URL or QR code for them to visit in order to contribute. 
For any communication platform you choose, remember that messages sent to your entire donor base are less likely to gain traction than messages tailored to different supporter segments. Use the data you've collected about your donors to draft the messages that will best resonate with them and inspire them to get involved.
19 effective and simple online fundraising ideas
These online fundraising campaigns are easy to get up and running and can help your nonprofit bring in significant donations. Browse the list to find online fundraising ideas that work for your nonprofit's mission and goals.
1. Peer-to-peer campaign
Peer-to-peer fundraising campaigns empower supporters to raise funds on behalf of your organization. Supporters set up their own online donation pages and solicit gifts from their friends and family.
These campaigns require specialized software and can be an effective way to drive interest and raise funds leading up to an event. If you host a peer-to-peer fundraiser, provide guidance for your volunteer fundraisers by sharing content and images to include on their online pages. Encourage and reach out to them throughout the campaign and congratulate them when they reach their goals.
See a peer-to-peer campaign in action
Every year, regional Special Olympics programs host polar plunge fundraisers. A polar plunge involves jumping into freezing cold water, typically during the winter months. Supporters register to raise funds virtually from family members and friends and have the chance to participate in the event.
This is an example of a polar plunge event page for the Special Olympics North Carolina chapter:
Participants have the opportunity to earn free merchandise based on how much they raise. For example, those who raise $50 receive a complimentary t-shirt.
2. Text-to-give initiative
A text-to-give or text-to-donate campaign can be helpful for engaging supporters via their mobile devices. Here's how a text-to-give campaign works:
Your organization makes an account with a text-to-give provider.
You choose a keyword related to your campaign and receive a dedicated phone number.
You promote your keyword and your platform's dedicated phone number to supporters.
Supporters text the number and receive a link to fill out your online donation form.
A text-to-give campaign works well when paired with fundraising opportunities such as giving days because it enables donors to get involved immediately just by pulling out their cell phones.
See a text-to-give initiative in action
The American Red Cross has been a pioneer of text-to-give campaigning for many years. Supporters can text to donate to causes like helping natural disaster victims and reducing measles deaths.
The organization's text to give options are simple and straightforward since donors don't have to decide on a donation amount.
3. Crowdfunding campaign
Crowdfunding involves creating a campaign page and collecting small contributions from a wide range of supporters. These funds can be used for specific campaign purposes.
Unlike peer-to-peer fundraising, crowdfunding uses a single donation page to raise funds. However, these campaign pages can also easily be shared, which inspires support and encourages donations from a number of different sources. Include social sharing buttons on the campaign page to enable supporters to share the campaign.
See a crowdfunding campaign in action
There are plenty of crowdfunding campaign examples on GoFundMe, the world's largest crowdfunding platform. Here's a fundraising page supporting koalas impacted by wildfires in Australia: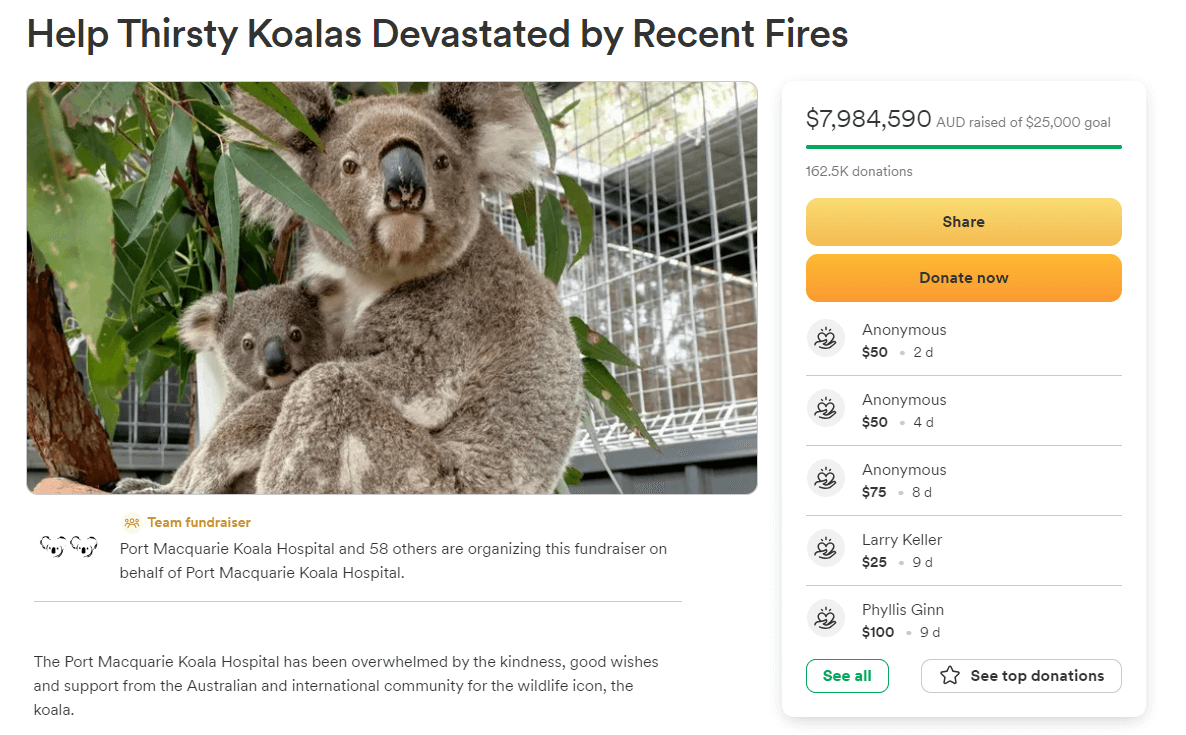 The page explains the fundraiser's purpose and how the Port Macquarie Koala Hospital used donations to install drinking stations in burnt areas. The fundraiser was so successful that the organization was able to expand its efforts to also launch a koala breeding facility.
4. Facebook fundraising
As mentioned, Facebook offers fundraising tools that nonprofits can use to raise funds directly through the social media platform. It's also one of the only platforms that cover the payment processing fees, ensuring your nonprofit receives all of the revenue you collect.
You're likely already familiar with Facebook birthday fundraisers, which allow supporters to raise funds for a specific nonprofit from their friends and family instead of gifts for their birthdays.
In addition to the fundraisers you can host directly on Facebook, it's also a great place to promote your other fundraisers like peer-to-peer and crowdfunding campaigns.
See a Facebook fundraiser in action
Explore the Facebook fundraising hub for examples of popular fundraising campaigns on the platform.
You can get a sense of what types of campaigns are performing well and the elements that are helping these fundraisers succeed.
5. Matching gift drive
Corporate matching gift programs are a type of corporate social responsibility initiative where companies match gifts made by employees to eligible nonprofits. These gifts can be matched at a 1:1, 2:1, and even 3:1 ratio.
These contributions can make a huge difference for nonprofits, but 78% of match-eligible donors don't realize that their company offers a matching gift program.
With a matching gift drive, you can use a matching gift software solution to identify supporters whose donations are eligible to be matched. You can then reach out and ask them to submit a matching gift request with their employer.
Throughout the drive, you can share information about matching gifts using communication platforms like social media, email, and your website to spread awareness of these programs.
See a matching gift drive in action
The American Red Cross has a landing page devoted to sharing matching gift information, including a form field for visitors to research their matching gift eligibility.
Creating a page like this for your website allows you to spread awareness of matching gifts and make it easy for donors to submit these contributions.
6. Online fundraising auction
Online auctions provide an option for supporters to bid on auction items via their computer or their smartphones. This opens up the traditional auction setting from a strictly in-person event to a virtual or hybrid opportunity.
Invest in online auction software that allows you to add descriptions for auction items and accept bids from your loyal supporters. You might even decide to host auctions more often as online platforms usually have lower overhead costs than in-person events. If you do decide to host a number of auctions throughout the year, incorporate themes into your events to provide unique experiences for your supporters.
See an online fundraising auction in action
Here's an example of an online auction for the Cavalier Rescue of Alabama hosted on BiddingOwl:
Supporters can browse Cavalier-themed auction items and support the rescue organization through bidding.
7. Influencer campaign
Influencer marketing is becoming increasingly popular in the nonprofit sector as people spend more and more time on social media platforms. Statistics show that the average daily social media usage of internet users worldwide is 147 minutes per day, representing a significant portion of the time that people spend on the internet.
An influencer campaign involves reaching out to a social media influencer or nonprofit ambassador who will promote your organization's campaign or donation page to their online audience. It's helpful to find someone who already has a proven affinity for your organization's mission and a large social media presence.
For a successful partnership, equip your influencer with images, written content, and hashtags they can include in their posts. Encourage them to personalize their posts with details about their personal connection to your cause.
See an influencer campaign in action
There are thousands of examples of celebrities working with brands and nonprofits to promote social good. For example, after a deadly tornado hit his home state of Kentucky, rapper Jack Harlow teamed up with KFC to donate $250,000 to the people affected.
View this post on Instagram
8. Merchandise sale
Another way that your organization can raise funds online is through online merchandise sales. Create merchandise with your brand's logo, colors, and fonts, then sell your items through an online store.
T-shirts, mugs, hats, water bottles, tote bags, and face masks all make great options for your nonprofit's next online merchandise fundraiser. Ensure the products you sell are high quality by ordering several for yourself before marketing the opportunity to your supporters. The goal is that they'll use their merchandise in public, spreading brand awareness for your cause.
See a merchandise fundraiser in action
The Richmond Animal Welfare Foundation launched a merchandise fundraiser on Bonfire that raised over $100,000 from 7,312 supporters.
The fundraiser featured stylish t-shirts and hats in a variety of colors, each with the organization's logo.
9. Google Ad campaign
Google processes billions of searches per day, making it a crucial platform for connecting with individuals who are researching vocabulary related to your nonprofit. With a Google Ad campaign, your organization can bid on relevant keywords to earn ad spots at the top of search results pages.
Pursuing a paid Google ad strategy can be a great way to supplement your organic search engine optimization (SEO) efforts on your website. Plus, you can gain access to $10,000 per month in free Google ad spending by applying for the Google Ad Grant program.
There are plenty of digital marketing agencies that can help you get your Google Ad campaign up and running, such as Feathr or Getting Attention. Working with one of these agencies can be immensely beneficial if your organization doesn't have a ton of Google Ad experience or extra time on your plate to devote to this strategy.
See a Google Ad campaign in action
Review some examples of Google ads by searching for terms related to your nonprofit. For example, here's what the search engine results page looks like when you search "food bank":
You'll be able to see the sponsored ads that pop up at the top of the page. In this case, these ads are all related to organizations that help fight hunger. They either lead to donation pages or resources for those in need.
With funds from the Google Ad Grant, you can get your nonprofit's landing pages to the top of Google for relevant terms.
10. eCard campaign
Greeting cards never fail to bring a smile to the face of anyone who receives them. You can bring that same joy to your online community with an eCard campaign.
With a donation eCard campaign, donors give to your nonprofit, then send an eCard to a friend or loved one that includes information about why they gave. They can also donate in honor of a loved one and send them an eCard letting them know they made a gift on their behalf.
Find an eCard platform that allows you to brand your eCards to your nonprofit to promote mission awareness.
An eCard campaign helps boost referrals and introduce new audiences to your organization's mission.
See an eCard campaign in action
Habitat for Humanity launched an eCard campaign to facilitate tribute giving during the holiday season. The campaign allowed donors to recognize and honor a loved one by donating in their name and notifying them about it. Supporters were able to give someone the gift of knowing that they helped further a good cause.
11. Virtual 5K
Virtual events can be a great way to help community members feel connected, even when they're physically apart. A virtual 5K is one type of virtual event that can encourage donations and friendly competition.
In a virtual 5K event, participants will still run 3.1 miles, just from the comfort of their own neighborhoods or homes. Ask racers to track their run using a fitness app like Strava or Runkeeper and submit their times online after completing the race.
Participants can raise funds through pledge fundraising or by paying an entry fee. Offer supporters a complimentary t-shirt or water bottle in exchange for their support.
To promote a sense of community surrounding your event, encourage participants to share their times within your Facebook group or wear their branded t-shirts while completing the race. Post photos of your first, second and third-place finishers on your social media pages and thank all involved for their generous support.
See a virtual 5K in action
St. Jude is hosting a virtual walk/run on September 30, 2023. Participants can register online and participate in the event from anywhere.
The landing page for the event includes a fundraising leaderboard with top supporters, which is a great way to show gratitude for engaged participants and encourage others to increase their support.
12. Virtual trivia night
Trivia is another engaging event that brings out the friendly competition within your supporter base. Invite supporters to participate in an online trivia tournament. Raise donations by requiring an entry fee.
To increase event engagement, consider planning a themed trivia night. For example, the theme could be 80s pop culture or the holiday season.
Reward your trivia champion with a cash prize or gift card.
See a trivia fundraiser in action
As you plan your virtual trivia night, there is one handy place that offers an abundance of creative ideas for themes, flyers, and more: Pinterest!
Browse around to get a sense of how other organizations approach trivia fundraising events. You can even find good trivia questions to ask based on different themes.
13. Virtual concert
A livestreamed concert can bring all the fun of a summer concert to your supporters, without the heat, bugs, and dust! Invite local musicians to perform and give them some information about your nonprofit's cause to discuss between songs. Supporters can tune in from the comfort of their home to hear their favorite local singers and support a good cause.
Consider asking local businesses to sponsor your online concert to cover any overhead costs, such as livestreaming equipment or musician fees.
See a virtual concert in action
In 2020, the United Nations Office on Drugs and Crime hosted a virtual benefit concert to support victims of human trafficking. The event featured 30 artists from around the world and raised $3,600 in donations.
Artists voiced their support and made appeals to donors, providing greater support for the cause.
14. Social media challenge
In a social media challenge, nonprofits invite supporters to complete a task or activity and document it on their social media to raise awareness and funds.
One of the most well-known social media challenges of all time was the ALS Ice Bucket Challenge, which allowed The ALS Association to boost its annual research funding around the world by 187 percent.
Other engaging social media challenge ideas include:
A fitness challenge, such as walking 10,000 steps per day
A hair-related challenge, such as dyeing your hair crazy colors or cutting your hair to donate it and sharing a video of the process
A photography challenge, such as sharing photos that are meaningful or that bring joy
A gratefulness challenge, such as sharing one thing you're grateful for every day for a week
See a social media challenge in action
Amid Russia's invasion of Ukraine, people around the world were looking for ways to support Ukraine and the people affected by the situation. The global community united for a social media movement called Stand Up for Ukraine. The movement involved a social media rally on April 8, 2022, and a pledge drive on April 9.
REFUGEES IN UKRAINE AND AROUND THE WORLD need our help now. Join us and @GlblCtzn as we #StandUpforUkraine and stand up for those displaced globally – because everyone deserves safe and humane living conditions: https://t.co/zz07shpTry pic.twitter.com/afGms6NWSk

— Angelique Kidjo (@angeliquekidjo) March 28, 2022
The event went viral online, with dozens of famous celebrities voicing support for the cause. The campaign resulted in $10.1 billion raised in new cash grants and loans to support Ukrainian refugees.
This example showcases the incredible power of viral campaigns to reach people worldwide and inspire massive support.
15. Online class
The best online fundraisers give donors something in return for their support. That's exactly what you can do with an online class or workshop fundraiser. In exchange for a ticket fee, supporters can attend an online class to learn or practice a new skill.
Consider class ideas like:
A cooking class
A creative writing workshop
A cocktail-making seminar
A craft workshop
See an online class in action
There are plenty of online class examples across the web, especially from the for-profit sector. Here's an example from Cozymeal of a "Health-Boosting Mocktails" online cooking class: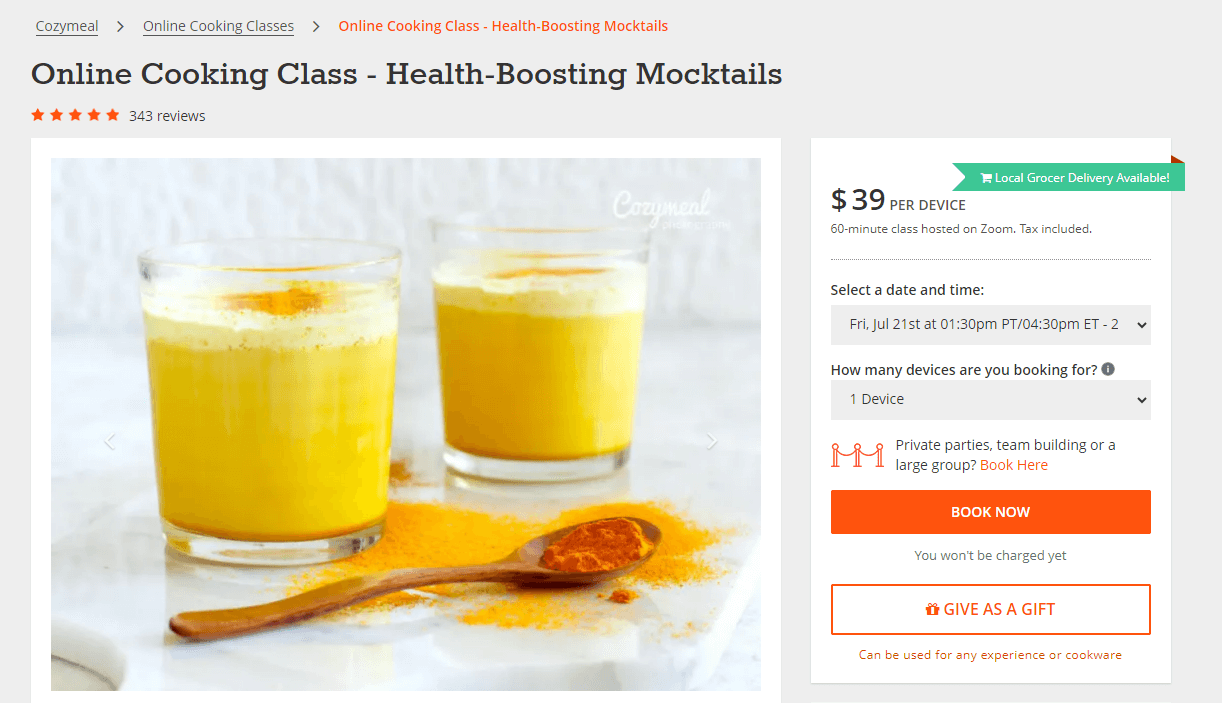 Feel free to send a survey to your audience to gather information about the types of classes they'd be most interested in.
16. Giving Day campaign
Giving days are intense, short-term fundraising bursts, typically taking place over a 24-hour period. Giving Tuesday is the world's largest giving day, typically bringing in billions of dollars for worthy causes each year. Launching an online fundraiser for Giving Tuesday, complete with a marketing campaign, is an effective way to make the most of this charitable time of year.
In addition to launching a Giving Tuesday campaign, you can also create a giving day on a date of your choosing. For example, you might choose the anniversary of your founding date. Use your social media pages and email newsletters to build hype for your giving day starting a few weeks in advance. On your giving day, post multiple times to provide updates. You can update and share a fundraising thermometer graphic to depict your progress and how far you have left to reach your goal.
See a Giving Day campaign in action
The Atlanta Community Food Bank celebrated its 44th birthday with a giving day and a matching gift drive. This message inspires urgency by asking supporters to give by midnight to triple their donation. It also aligns each giving amount with a specific impact, showing donors exactly what their gifts will accomplish.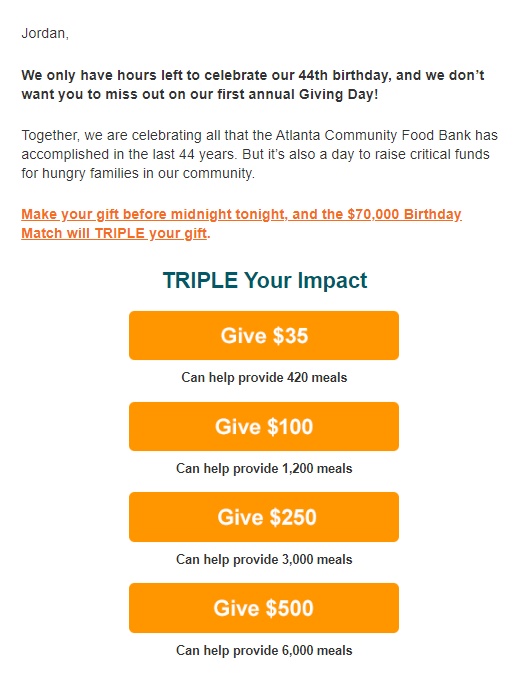 17. Targeted email campaigns
According to a Bloomerang study, 90% of nonprofit professionals said they plan to use email marketing in 2023 to reach supporters:
Email is an effective platform for reaching supporters on a regular basis, but it's even more effective to create a targeted email strategy based on segmentation.
Most email marketing platforms allow you to segment your subscribers based on shared characteristics. For example, you might create segments for new donors, long-time donors, monthly donors, and lapsed donors.
Then, you can send each segment tailored content based on their interests. You may send new donors a welcome packet to introduce them to your organization, and monthly donors an impact report that describes the positive change that your monthly giving program has enabled.
Make sure to personalize your email subject lines with supporters' names when relevant. For example, you might say "Paula's 2022 Giving Roundup" or "Personalized event recommendations for Martin." This will catch recipients' attention and make them more likely to open your messages.
See a targeted email campaign in action
Here is an example of a compelling email message from CARE Australia recapping donors' impact throughout the previous year.
This message is so effective because it includes specific statistics that convey the massive scope of donors' support.
18. Online shopping fundraiser
With an online shopping fundraiser, shoppers can support your nonprofit while making purchases at their favorite online stores. When you partner with an online shopping platform, your supporters can download an app or browser extension, shop at participating retailers, and give a percentage of their purchase to your nonprofit at no additional cost.
These fundraisers are so effective because they don't disrupt supporters' normal online shopping processes. This type of fundraising can really add up over time as you spread the word about this simple giving option.
See an online shopping fundraiser in action
Take a look at this example from ShopRaise about how online shopping fundraisers can add up to make a large impact:
You can see how small contributions from each website lead to a decently sized donation that donors didn't have to reach back into their wallets to contribute.
19. Video fundraising
Hearing about your nonprofit's mission is helpful, but seeing it brought to life through videos is an exceptionally powerful way to drive support. Fundraising videos elicit emotion and make your mission feel more real to new and existing supporters alike.
Testimonials from those your organization has helped can be especially impactful because potential donors can see who their gifts will help.
Video fundraising example
Check out this video from charity: water that tells the story of Mamie, a woman who gained access to clean water because of the nonprofit's efforts:

The video ends with a compelling call to action letting viewers know that they can help people like Mamie access clean water faster by donating today.
8 top online fundraising platforms for nonprofits
As you carry out your online fundraising strategy, fundraising software will help you capture and process donations, manage donor information, send personalized communications, and more. Some of our favorite solutions include the following:
Bloomerang
Bloomerang is an online fundraising platform that helps nonprofits acquire, engage, and retain donors. You can customize your online giving pages and encourage additional donations through pop-up donation buttons on your website.
Bloomerang also provides peer-to-peer features that make it easy for supporters to get involved in your next campaign, event management capabilities for your in-person or virtual events, and a donor portal that supporters can use to see their donation history and update their credit card information.
The best part is that Bloomerang is fully integrated with your donor database. This means that the information you capture through online fundraising automatically syncs in Bloomerang, which helps you build relationships with donors and supporters so you can retain them for years to come.
Qgiv
Qgiv's online platform offers the features you need to host several different types of online fundraising opportunities. In addition to online donation forms, this platform offers the software necessary to manage events. You can collect online registrations through event pages, encourage donations during the event through text-to-give campaigns, and sell auction items.
You can also use Qgiv to launch text fundraising and peer-to-peer fundraising campaigns.
Qgiv also has a number of integration partners, including Bloomerang, Salesforce, and DonorPerfect.
Fundraise Up
Fundraise Up is an online donation platform that provides donation page software that your organization can use to increase conversions from your website. This platform focuses on creating the fastest and most streamlined experience for donors as possible when they arrive on your donation page, reducing donation form abandonment and increasing revenue.
Fundraise Up uses a unique machine learning approach to help nonprofits suggest appropriate donation amounts and prompt donors to upgrade their one-time donation to a recurring contribution. This data-driven, AI approach allows organizations to increase their fundraising ROI by offering donors opportunities that they're most likely to engage with.
Plus, the platform gives your supporters control over their engagement by providing access to a donor portal where they can update their information and keep track of their giving histories.
Givebutter
Givebutter is another multi-use online fundraising tool that your nonprofit can use to amplify its campaigns and opportunities. You can use this platform to host peer-to-peer campaigns, sell event tickets, and create online donation forms.
Givebutter's platform is especially useful for giving days. These 24-hour events often take place online, cultivating as many gifts as possible in a finite period of time. You can use their software to convey urgency and spread awareness of your campaign.
Facebook
Facebook covers all processing fees for fundraisers started via their online fundraising platform. That means your nonprofit receives all of the donations contributed to your organization.
Facebook can supplement your other online fundraising efforts through birthday fundraisers, Facebook challenges, and more. You can encourage your supporters to start campaigns on behalf of your organization. Then, you can use your nonprofit's official Facebook page to share, like, and comment on supporters' campaigns, thanking them for their involvement and increasing engagement with their posts.
GoFundMe
Using GoFundMe, any individual or organization can start a crowdfunding campaign for a cause that's important to them. It's a simple way to raise money and a trusted platform for fundraising.
Crowdfunding is an effective online fundraising campaign idea because it allows your nonprofit to collect a variety of smaller donations from a large audience. Plus, these campaigns are easily shareable, allowing you to connect with a broad range of prospective donors.
You can customize information on the crowdfunding page to feature your organization's image and a description of the campaign. Once it's published, you can share your campaign using your social media platforms, email, and website. You can also encourage supporters to share and contribute to your campaign.
Classy
Classy makes it easy for nonprofits to collect donations via a branded, mobile-responsive landing page. Classy also specializes in campaigns like peer-to-peer fundraising, crowdfunding, virtual events, and auctions.
Classy empowers nonprofits to conduct global fundraising with Classy Passport, a cross-currency international fundraising solution. Classy Passport is automatically enabled for crowdfunding campaigns, peer-to-peer fundraisers, and donation pages, meaning there's no additional set-up required.
Lastly, with Classy's donation management tools, you can review robust donor reports and data analytics and access a 360-degree view of your supporter interactions.
Donorbox
Donorbox is an online fundraising platform that's focused on facilitating a fast, simple donation process. The platform's UltraSwift checkout feature eliminates the need for adding personal information to your online donation form, allowing donors to checkout four times faster on average.
Plus, with Donorbox, you can add a "Donate" button anywhere on your website that takes visitors directly to your donation page. You can also use Donorbox to host peer-to-peer fundraisers, text-to-give campaigns, and events.
Tips for a successful online fundraising campaign
Use these tips to create engaging campaigns and streamline supporter contributions.
Tell stories
One of the best ways to engage supporters is to use effective storytelling strategies.
When people read stories, their brains release chemicals like dopamine and oxytocin. These chemicals make the reader feel good and evoke empathy—they'll often keep reading because they want to know what happens next.
As you craft the message for your donation pages, emails, and other marketing materials, tell a story about how this campaign will help your mission.
Include the key elements of a good story:
Protagonist: This is usually the individual the campaign is helping. Although your campaign may help multiple people, it's better to tell one person's story as it's easier for people to identify with an individual than with a group.
Conflict: Highlight the issues your protagonist faces and how it impedes their daily life.
Resolution: People need motivation to give. Tell them how donating to your campaign will help the protagonist solve their problem.
Simplify fundraising forms
A common problem nonprofits face when they start raising money online is donation form abandonment. Supporters will navigate to a donation page, but if it's too lengthy or asks too many questions, they may end up leaving the page without donating.
One way that your nonprofit can combat this is by making the donation process as simple as possible. Keep your donation form on a single page so supporters don't have to skip from page to page; the fewer clicks they have to make, the better.
Limit the questions on your donation page to only those that are necessary for the gift. You can always send out a survey to supporters after they give or include a couple of optional questions for them to answer on the gift confirmation page to collect additional information.
Brand your fundraising materials to your nonprofit
While other campaigns will take place outside of your website, your donation page is the backbone of your online fundraising strategy. Therefore, ensure this resource is designed to showcase your organization's brand effectively.
Brand your donation form to make it cohesive with the other design elements on your website, like fonts and colors. Even better, look for donation forms that can be embedded directly into your website.
Enable recurring gifts
Invite donors to become recurring supporters by offering a monthly donation option on your donation page.
Recurring donations are important for your nonprofit's donor retention strategy. Monthly donors are shown to have a retention rate of 90% compared to the average of 46%, so encouraging these contributions can increase your organization's retention rate as a whole.
Remember that recurring gifts shouldn't encourage a "set it and forget it" attitude. Encourage monthly donors to get involved with your mission by engaging in volunteer opportunities or hosting peer-to-peer fundraising pages. This keeps them engaged in your mission and grows their relationship with your organization.
Offer suggested donations
Many supporters land on donation pages and think, "How much is 'normal' to give to this organization?" Offering suggested giving amounts gives supporters a reference to choose how much to give to your organization.
You can encourage donors to select one of your suggested giving amounts by explaining what giving at different levels accomplishes. For instance, you might say that a $20 donation helps purchase a new leash for a shelter dog, a $50 donation funds a month of dog food, and a $100 donation helps buy a new small dog crate.
Optimize your donation page for mobile
Maximize your fundraising revenue by ensuring that your donation page automatically adjusts to match each screen size. Look for this feature when comparing potential fundraising solutions.
You can also launch mobile-focused campaigns to encourage supporters to use their phones to give to your cause. Text-to-give campaigns are a perfect example of this, providing the opportunity for supporters to text a dedicated mobile number and receive a link to your donation form.
8 online fundraising metrics to track
There are a number of different ways to define success for your campaign. As mentioned above, you need hard numbers to determine success and to identify potential opportunities to improve your fundraising strategies in the future.
Here are just a few of the metrics you might want to track.
Donor retention rate
Your nonprofit's donor retention rate measures how many donors who gave to your organization last year also gave again this year. The average donor retention rate in the nonprofit sector has rested around 45% for the last five years.
Increasing your retention rate boosts your fundraising revenue over time. Keeping an eye on this important metric will help you optimize your future online fundraising strategies and outreach to encourage supporters to keep giving in the future.
One way to increase your donor retention rate is to build meaningful relationships with your supporters through donor stewardship. Donor stewardship involves activities like expressing appreciation for donors, showing them the impact of their gifts, and engaging with them using multiple platforms.
Fundraising ROI
Fundraising ROI measures how much your fundraising campaign raised for every dollar spent on the fundraiser. You can calculate the ROI of a campaign by dividing the net profit of the event by the expense of the fundraiser and multiplying by 100.
For example, if you raise $50,000 during your fundraising campaign and spend $15,000 to make it happen, you've made $25,000 in revenue and your ROI would be 233%. To be sure your online fundraising campaigns are worth the effort, work to maximize revenue and minimize expenditures.
Average online gift size
Knowing your average online gift size can help you determine which donor segment you're engaging with your online marketing efforts. It can also help you come up with suggested donation amounts for your online giving page.
You can calculate this metric by dividing your total online revenue by the number of online gifts you received.
Donation page conversion rate
How do you know that your donation page is effective? You can track this by measuring the page's conversion rate.
Determine your donation page conversion rate by dividing the number of online donations that were actually completed by total page visits and multiplying by 100.
Conduct A/B testing to test out different donation page design elements and determine which encourages the most donations. Only test one change at a time so that you know which change grabbed supporters' attention. For example, you might test two different images as the feature image on your landing page to see which resonates more with your supporters.
Email open and click-through rates
Measure the success of your email marketing campaigns with metrics like your email open and click-through rates. You can determine your email open rate by dividing the total number of email opens by the number of people you sent the email to.
You can use segmentation and personalization strategies to increase your organization's email open rate. For example, you can personalize email subject lines with supporters' names and group supporters into different lists based on shared characteristics.
Another important email metric is your email click-through rate, which measures how many people clicked on the links within your email messages. If your click-through rate is low, you can adjust your calls-to-action (CTAs), which are the buttons or link text you use to encourage recipients to click through to your website.
Social media engagement
Social media engagement involves a variety of social media metrics from different platforms. Depending on which platforms you use, you might track your follower growth over time, share of voice (which measures how well your brand awareness efforts are going compared to similar organizations), or the number of likes, comments, or shares your posts get.
You can also track social media conversion rates. For instance, you might create a post asking supporters to click a link and donate to your giving day campaign. You can calculate conversion rates by dividing the number of people who donated after clicking the link by how many people saw the post.
Tracking social media engagement metrics lets you know how well your social media campaigns are performing across platforms and whether you should adjust your approach on any channel.
Website bounce rate
Your website's bounce rate is the percentage of website visitors who only view a single page on your website before leaving it. If your bounce rate is high, you'll know that your website isn't engaging visitors effectively.
Luckily, you can improve your bounce rate with a few simple strategies. Try improving your page's load speed by simplifying your code and optimizing images. You can also streamline your site's navigation to make it as simple as possible for visitors to move from one page to another.
Fundraising participation rate
Fundraising participation rate is a metric that specifically tracks the effectiveness of your peer-to-peer fundraisers, such as walk-a-thons or 5Ks. This metric highlights how many people who donated to or attended your fundraising event acted as fundraisers themselves.
You can calculate your fundraising participation rate by dividing the number of campaign donors or attendees who fundraised by the total number of donors or attendees.
If you have a low fundraising participation rate, you can adjust your recruitment tactics ahead of your next peer-to-peer campaign. For example, you can offer more perks, like free merchandise, to participants, or provide volunteers with a fundraising guide to help them feel more comfortable.
In conclusion
Don't forget to thank your donors when they give online. Showing appreciation is the best way to encourage more gifts from your supporters in the future because it lays the foundation for a strong relationship with your cause. As you build out your online fundraising strategy, don't forget to build in appreciation techniques that you can use to steward supporters.
To learn more about online fundraising, check out these additional resources:
The post 19 Incredibly Easy Online Fundraising Ideas and Expert Tips appeared first on Bloomerang.
This article originally appeared in Bloomerang. See the original article here.